# Voyager C-Store Retail Kiosk
wouldn't it be great if you could just swipe your card to pay for gas and, instead of asking if you want a carwash, it asks if you want your usual coke and beef jerky?
This question launched me into a whirlwind of research, ideation, and prototyping.
It was one of those projects born out hallway conversations. I had been having extended chats with with a colleague at redpepper: he knew a little about the challenges convenience stores face and I'm always looking for interesting ways to improve daily interactions with technology.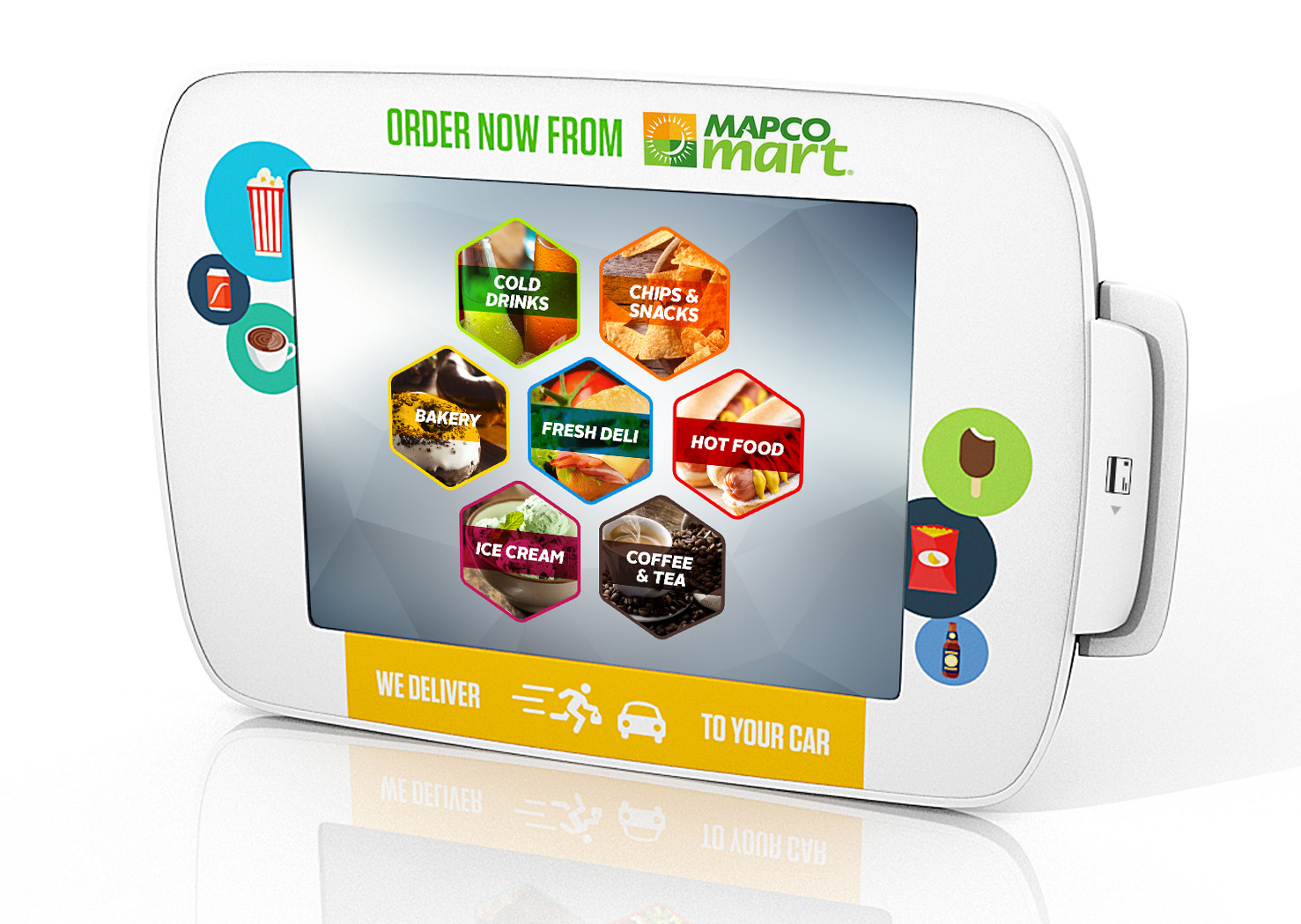 With this question looming large, we immersed ourselves in the word of convenience stores, researching pump manufacturers and various business models in the industry in order to understand the challenges facing convenience store owners today. Guerrilla field research and conversations with C-store owners helped us zero in on the problems and build a prototype of a potential solution.
At the top of the list of challenges: with increasingly busy schedules and an increasing number of significantly more convenient options, people are growing less likely to shop inside a convenience store. However, in-store sales make up the bulk of a convenience store's revenue and profit.
In order to address the challenges of convenience store owners, we designed a retail kiosk designed to be installed at the point of fuel purchase. This kiosk brought impulse purchasing opportunities to the outdoor pump-side gas station experience and fulfilled orders with a concierge delivery service. Additionally, this new experience answered a number of consumer pain points, especially for mothers who were both busy and unwilling to leave their children in the vehicle just to grab a soda.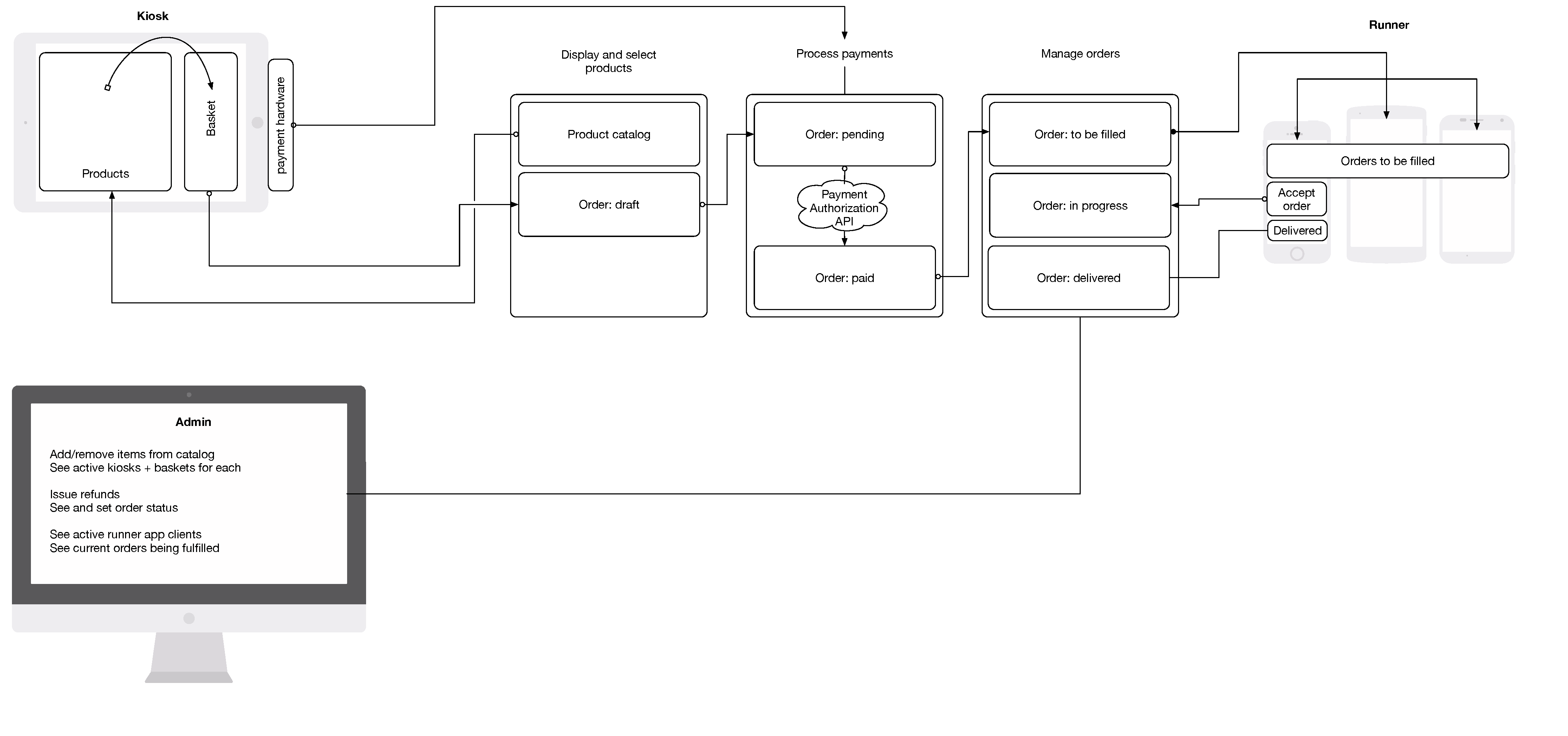 What started as something a thought experiment—how do you improve the experience of buying gas?—turned into a promising business opportunity: over 70% of convenience store customers leave without ever entering the store, but nearly all of their profit comes from items in the store. As technical co-founder / CTO I helped shape the product offering and designed and built the early stage prototypes. I also designed the system architecture and made technical decisions.
The prototype used for our first pilot test was a Meteor JS application running on iPads. This app was little more than a handful of screens connected to a card-stripe reader. While we initially considered running a pilot using an lower-fidelity prototype, field tests we showing us that the swipe experience was a crucial component. Unfortunately, it's hard to fake a card swipe in a realistic environment.
iPads were chosen for availability and adaptability (and availability of credit card readers), meaning we wouldn't get stuck with single-purpose hardware, and Meteor was an obvious choice as it excels at rapid development and deployment of cross-platform applications — our primary concern for the prototype was speed and flexibility.
Through our initial exploration of the problem we discovered a number of additional opportunities for massive improvement over the current state:
With the national EMV chip card rollout, C-stores are facing prohibitive costs for deployment of new payment processing technology. Some larger chains have already implemented payment apps that support alternative methods of payment. One even allows remote payment, letting you pay for your family member's gas via Paypal. Adding these alternative payment methods into a kiosk experience help the c-store avoid credit card fees in addition to driving increased revenue through purchases.
By removing the friction of payment, we are able to tap into the powerful psychology of bundling. By rolling a snack and a drink into your gas purchase, the increased total barely feels increased at all, causing less payment-pain and increasing the amount spent.
Looking even further to the future, grocery stores are already making moves to ensure their relevance long after the delivery wars end. Convenience stores are uniquely situated to consider moving into the business of delivery for household items (the kind already found on c-store shelves) and ready-made meals (increasingly common in larger c-store chains). Their location, distribution, and existing integration in many consumers' daily lives could provide an advantage in delivery speed and convenience, with the right technology.